Get up to speed with Lightfoot Driver Perks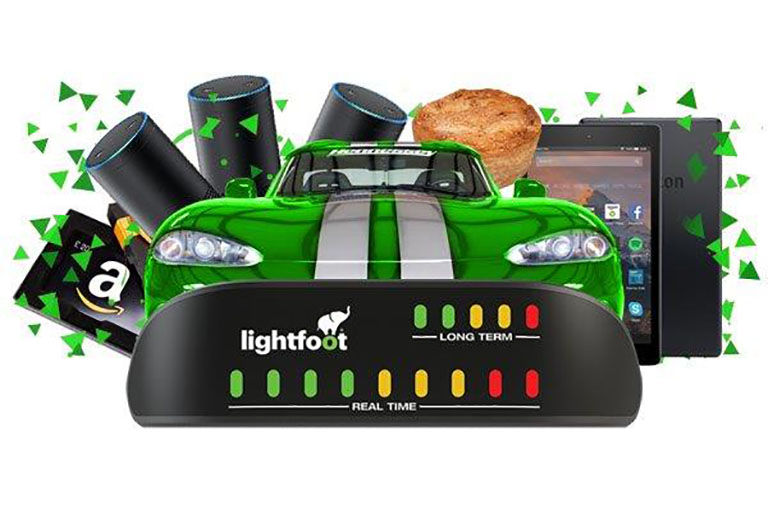 Rewards, benefits, perks, discounts, prizes, bonuses, incentives. We use a lot of different words to say it, but the bottom line is: Lightfoot drivers get good stuff for good driving.
We've added a lot of extras in the last few months, so think now is the time to lay out exactly what you get from your Lightfoot Driver Perks.
Remember – you have to activate your Personal Account to unlock access to rewards and competitions. It's as simple as entering your name and email, creating a password, then entering a unique activation code.
Once your Personal Account is up and running, you will get access to:
Lightfoot Rewards
Dozens and dozens of discounts and freebies at high-street names, restaurants, gyms, online retailers, garages, opticians… You name it, it's there. Highlights include 20% off at Bill's, Moss Bros, and on EE monthly contracts. These are available to all drivers, regardless of their score.
To view your full set of discounts, click here.
Elite Driver Rewards
All drivers have access to the discounts listed above, but Elite Drivers get some tasty extras – and quite rightly too; our Elite superheroes are the ones saving fuel and reducing emissions the most!
To go with all of those goodies we mentioned previously, Elite Drivers also receive 20% off their personal car insurance, 10% off breakdown cover, 15% off vehicle maintenance, and 10% off vehicle hire.
Competitions and Prizes
This is where it gets even better. Elite Drivers get extra discounts, sure, but we also offer them the opportunity to win prizes every week through a multitude of competitions.
Private drivers can win in our Consumer Driver of the Week competition.
Fleet drivers can win Fleet Driver of the Week.
Managers of fleets with an average score of 85% or higher are eligible for our Fleet Manager of the Week competition.
All Elite Drivers, whether fleet or private, have the opportunity to enter our prize competitions to win additional prizes!
Previous prizes have included cameras, iPads, supercar experiences, longbow lessons, days out, dinner for two at The Shard, and if you're truly lucky… you might get a Lightfoot mug too!
So that's what you get for driving smoothly. You save fuel, cut air pollution, and make roads safer – you deserve to be rewarded for making a difference.